Read On Elle Decor
https://elledecor.in/article/say-goodbye-to-gallery-visits-and-embrace-customised-art-commissioned-directly-from-gayatri-sekhri/

Gayatri Sekhri is an A-list artist, who has carved a niche for herself, in the art world. She has a natural disposition to creativity and a passion for arts making her a known figurehead in the Indian art community. If you're looking to commission art in New Delhi, Sekhri is the person to go to!
"Come to an artist directly to commission the dream art for your home and offices," says Gayatri. The vision for her sculpture collection is to create an environment for enthusiasts that blend nature's beauty with inspiring works of art, free from the constraints of enclosed spaces of a traditional gallery.
A lawyer who quit her practise to follow her passion, Gayatri Sekhri is also a co-founder and Creative head of Pomegranate Design – a multi-disciplinary design studio offering a full spectrum of design and execution services including architecture, construction, interior design, art décor and event décor in India & Dubai.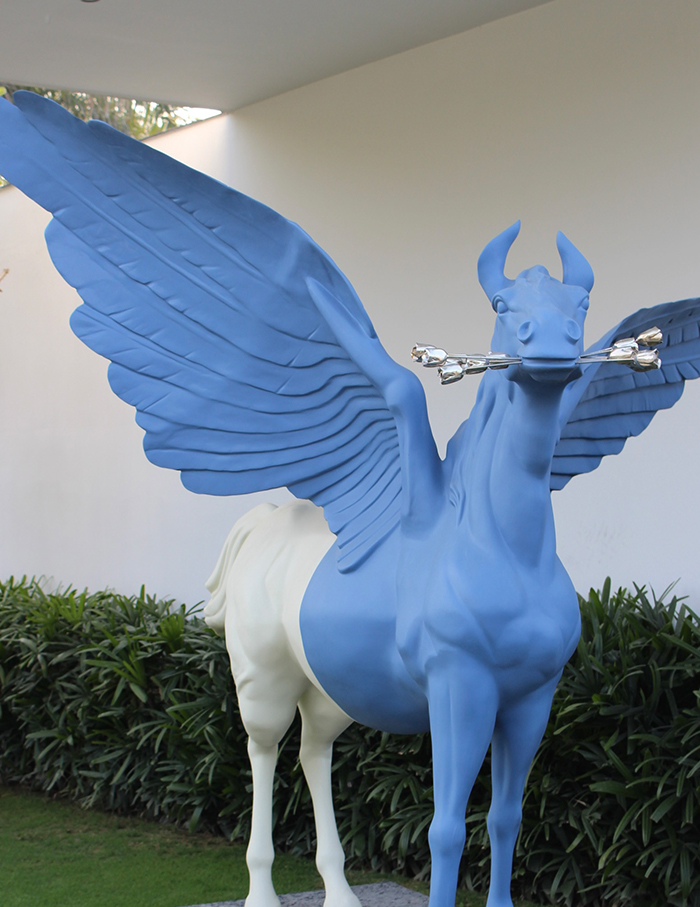 "We're not just selling art, but we're accentuating spaces as we have a design background with Pomegranate Designs," shares Gayatri.
Having worked with top corporate homes and business families like RP-Sanjiv Goenka Group, VLCC, Manav Rachana Group, Inox, Porsche, Apollo Hospital, Godrej Properties, Gayatri, also caters to customisation as per client brief. Along with her team, she curates bespoke art and also assists you with the installation process—talk about the perks of commissioning the artist directly!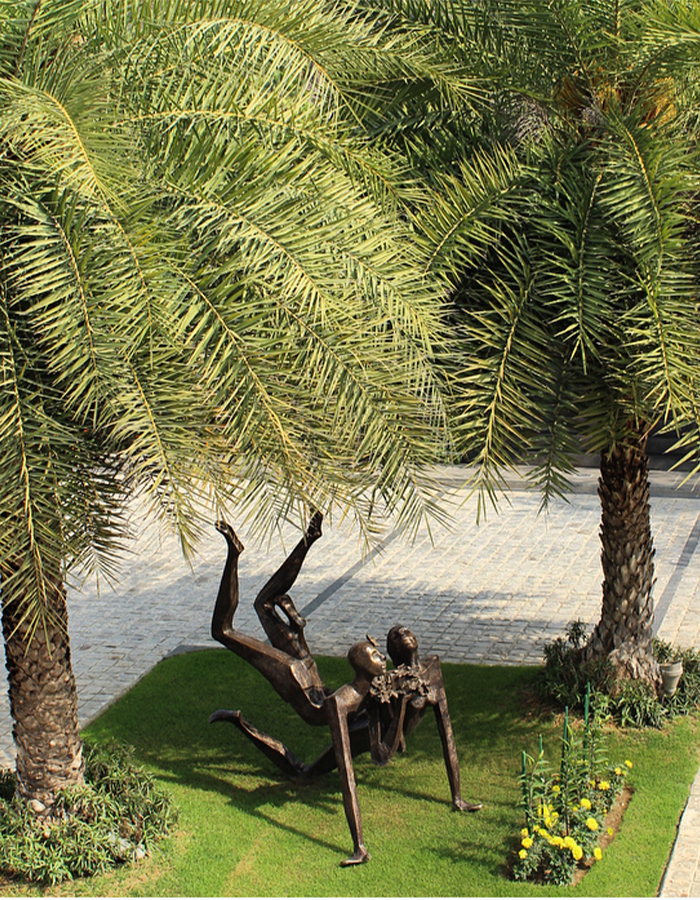 "My most popular series is the Superamcy series, Balance series and Tall tales and all of them have been introduced as per client requirements," points out Gayatri. 
The Supremacy series that depicts Gandhi, Nelson Mandela and Queen Elizabeth next to each other is inspired by the client's idea who wanted something that revolves around the change. Similarly, based on a client brief, the Balance series is crafted as a form of art around balance and engineering.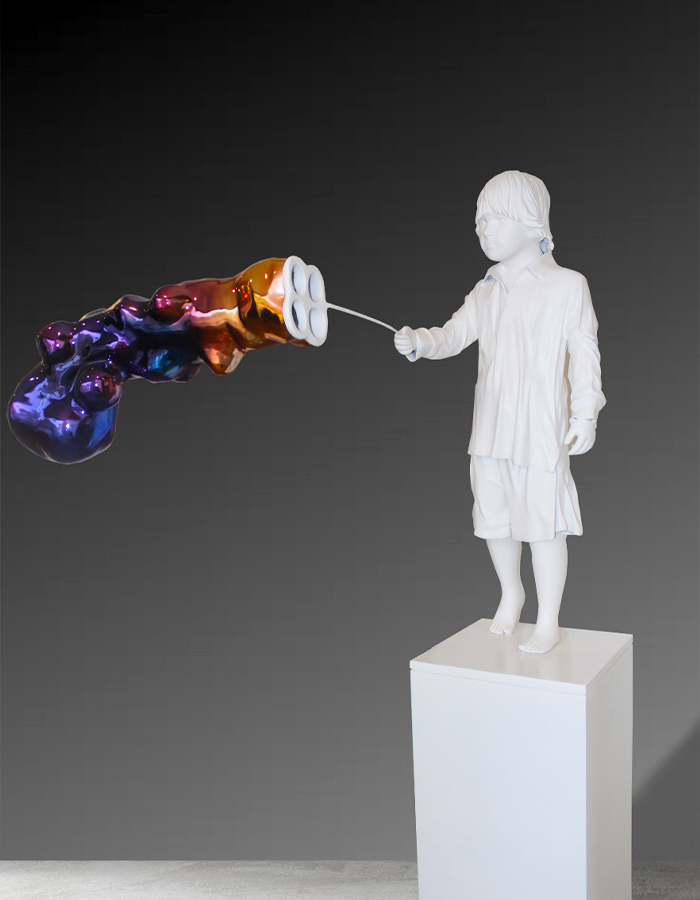 As a creative head of Pomegranate Design Gayatri Sekhri works within four verticals: Art and Sculptures, Interior Design, Architecture and Wedding Décor. Each of the statement pieces is carefully sculpted and curated to ensure that each piece when installed not only enhances its own aesthetic qualities but the overall visual surroundings as well.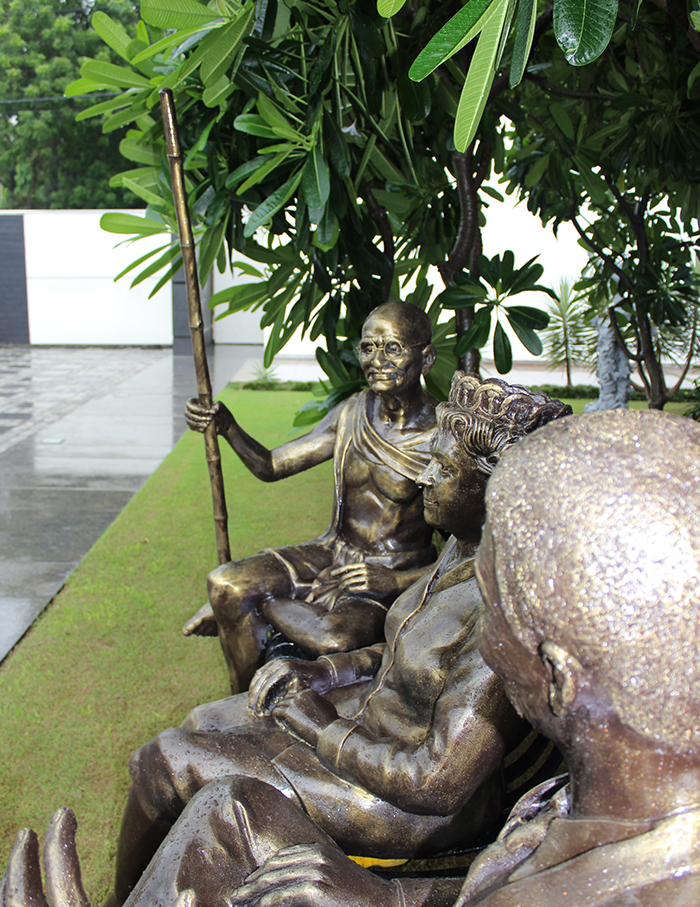 "Spearheading a creative team across diverse design services, I endeavour to create a unique blend of design sensibilities into my sculptures. Bringing forth the zeal for design and aesthetics together with local craft and global exposure, I am driven to offer services to private, corporate and commercial clients," concludes Gayatri.
---